TecDoc na Targach Automechanika 2012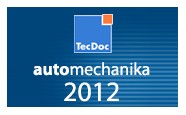 Przedstawiciele firmy TecDoc uczestniczyli w Targach Automechanika 2012  we Frankfurcie. Podczas Targów zaprezentowano nowy TecDoc Web Catalog 2.0. Międzynarodowe Targi Motoryzacyjne zgromadziły ponad 4500 wystawców z całego świata, imprezę odwiedziło 150 tysięcy osób z ponad 170 krajów. To największe międzynarodowe targi dla przemysłu motoryzacyjnego.
Zamów program TecDoc Webcatalog 2.0
W tegorocznych targach nie mogło zabraknąć również firmy TecDoc Informations System dla której była to bardzo udana impreza. Praktycznie we wszystkie dni trwania imprezy stoisko firmy Tec Doc było oblegane przez duża ilość zwiedzających, którzy mogli sprawdzić możliwości rozwiązań firmy TecDoc oraz otrzymać od specjalistów firmy TecDoc wiele ciekawych informacji. Podczas Targów firma zaprezentowała wiele nowości m.in. TecDoc Web Catalog 2.0, wyposażony w całkiem nowy i innowacyjny interfejs użytkownika. Poniżej można zobaczyć galerię zdjęć stoiska targowego firmy TecDoc Informations System.